Vijay Institute of Management
Approved by AICTE, NewDelhi - Affiliated to Anna University


Vijay Institute of Management initiated "Earn While U Learn" Program in 2010.
Under the guidance of faculties, students get real experience and develop skills of negotiation, purchase, market and sell the products.
In this section find different product sales and profit grained by students.
Ms. Jenifer , Ms. Amshalekha , Ms. Prabha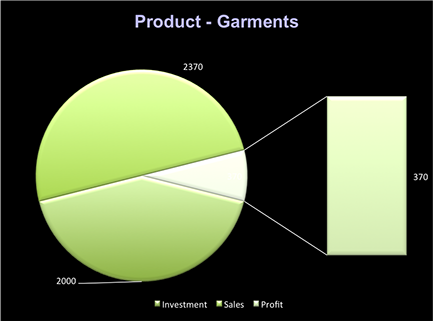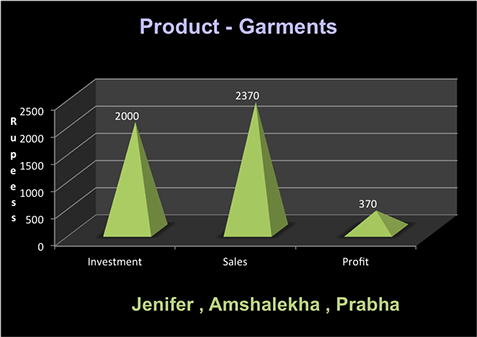 Mrs. Suruthimole and Ms. Shanmugavalli
Back To Top
Saree (1) - 400 , Chudithar -2- 500, Kurtha - 200
Project Experience in One Line
Motivated and learned some ideas during this project. Thanks to our Management.
When we went to sell materials customers are not ready to buy with cash, they preferred ONLY credit purchase. And many persons are not ready to see our materials. We need to explain our project & purpose, then some customers came forward to purchase our materials, but we managed our problems.
Ms. Pavithra & Ms. Pandiselvi
Kitchen Accessories and Food Items
Baby Bed(1) -250 Bedsheet (1) -150 Aepron(2)-100 – Delhi links
Apple Cutter(3), Gift Box(2), Adail & Bholi(20)-100
Project required proper planning of what material to be purchased, organizing, fixing the price and at last the selling. We need to refer more people and explain about the product and encourage them to buy.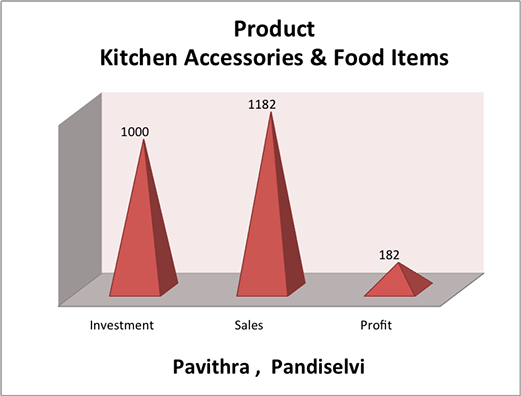 Project Experience in One Line
Back To Top
Ms. Tamil Selvi & Ms. Vidya Priya
We analyzed the market trend and finally we found there is a demand for honey. So we choose this product and finally we succeeded in selling.
Project Experience in One Line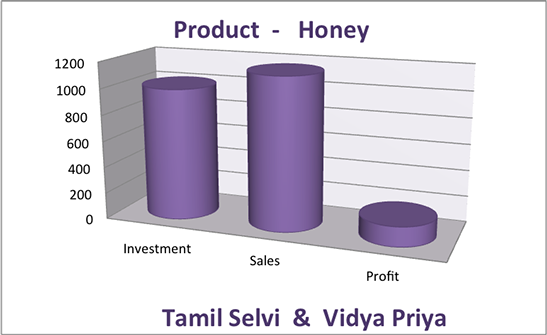 This project helped us to improve marketing skills.
Back To Top
Ms. Ankayarkani & Ms. Narmadha